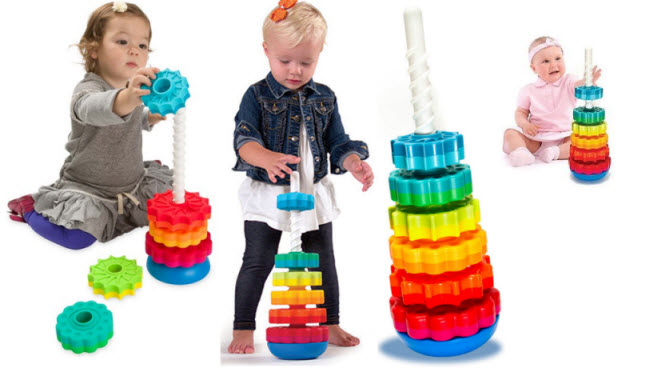 Among the best fat brain toys in the world Spin Again is the unique and great one for the kids. The colorful Spin Again toy for kids is attractive and amazing for the kids to let them learn many skills. Spin Again toy is available for online shopping in Pakistan that can be the best for your baby. It can be a great exciting gift, stacking and spinning toy for the kids that they will love. Just give it to the kids and notice the expressions on their face when you let them assemble and play with this exclusive toy. Spin Again toy in Pakistan is imported from Amazon in Pakistan and available for Fat Brain toys Spin Again online shopping in Pakistan.
Fun and Educating Spin Again Toy in Pakistan
Fat Brain Again Toys Spin Again Toys in Pakistan has 6 discs in vibrant and striking colors that are eye catching for the kids. The spinning discs have to be spin down over the corkscrew pole. The base disc of the pole can be detached and pulling it will tumble the discs that the kids can stack and spin again. The base can be flipped to change it for wobbly or sturdy game. This is perfect for the kids more than 1 year old. Have it for your baby buying Spin Again Toy for kids online in Pakistan.
Skills to be learned with Spin Again Toy Online Shopping in Pakistan
The inspiring Spin Again has multiple skills to be learned by the babies. It let them learn hand-eye coordination with the spinning and screwing the discs. The toy also gives the concept of cause and effect to the kids. It improved the visual recognition, teaches colors, and teaches motor dexterity and more skills. Kids can have hours of playing with this special and durable toy. Spin Toy online shopping in Pakistan will give the kid the pleasure of playing in leisure time.
Spin Again Toy Online in Pakistan
The exclusive China made toy won the Parents' Choice Silver Honor Award in 2016 that made it famous all over the world. You can find Spin Again toy online in Pakistan in best price at the online store to buy with just an order. Kids make the patterns and play it as they want to have a delightful time of playing and learning at once. Buy this inventive and classic Spin Again toy online in Pakistan placing your order.
Multiple Ways to Play
The dazzling and stacking spinning toy online in Pakistan has limitless ways to play making different combinations with the colors sizes and shapes. It is easy to grasp and fun to play swirling the colorful discs. It is brilliant toy with sensory and squeezing skills for the babies. The discs have round edges and safe quality material for the kids they is coated and curved. The flower disc, circular divots, star burst, and swirling sun are all different and attractive for the kids.