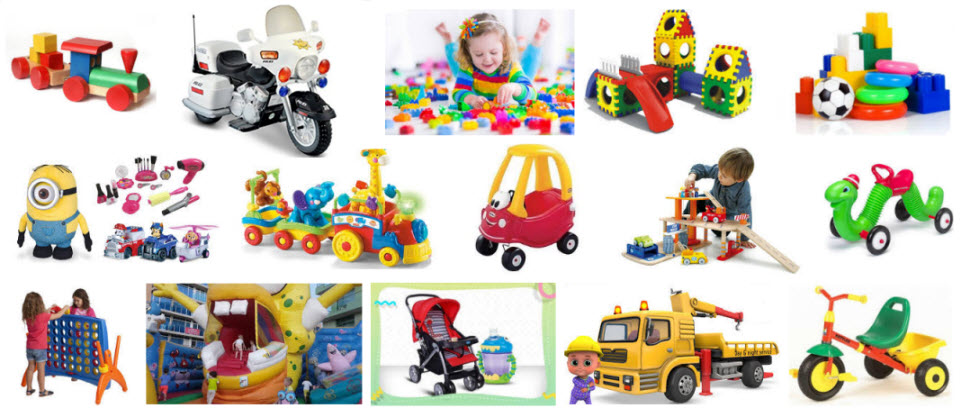 Toys are kid's best friends! Newborns, toddlers and even kids of age 4 or 5 years love to play with their own toys. And when it comes to choosing from the wide variety of kids toys available today – the options are endless. With fur, soft fabric etc to even the technologically advanced toys or building blocks, a kid needs all but with a certain inclination to play with it. You surely do not want to buy your child a toy which he would not like or avoid playing with. Therefore, what matters is the kids' choice. Here are a few most popular kids' toys in Pakistan which cannot go unnoticed by your child!
Buying Guide for kids' toys in Pakistan
To choose the best kids toys in Pakistan the ideal thing to do is choose from the most popular ones. Here are the things which you should consider.
Be it baby boy or a baby girl important is to give them the toys which suit their age. For newborns always choose delicate toys with soft feel or something chewable as newborns love that. For toddlers pick up more musical toys.
Know what your child likes
Kid's choice is important too so try to give them more of what they like playing with. Notice what they are attracted to.
Always make sure that you give your child the toys which don't harm them. Anything that can make them hurt or cause injury should be avoided.
Best Toys for Kids
This cute pair of walkie talkie is best for the kids to play around while talking to each other in commands. The beautiful finish makes it attractive and the LED display is perfect for the new age kids. Suitable for baby girls of age up to 4 years this one if best for your child!
Pros:
Durable
Light weight
Made of plastic and has LED display
Transfers sound easily
Cons:
Not suitable for kids below a year of age
This beautiful plastic walkie-talkie in blue color has LED display, 22 channels with PMR system, LED torch, long-range coverage and transmits high-quality sound. Operates on four AAA batteries the toy is light-weight and perfect for kids of growing age. It covers almost 3km travel distance and hence is a good tech-toy for your baby boy!
Pros:
Covers long range
Has a variety of features
Lightweight
Battery operated
Cons:
Battery may run out
Not suitable for kids below a year
Weighing just about 110 pounds, this battery-operated police motorcycle has 2 forward speeds and a backward speed for utmost play. With hand accelerator, headlight, hazard and signal lights this is the perfect replica of a true motorcycle. Make your baby boy enjoy rides inside the house or around the garden in this for their biking love.
Pros:
Rechargeable battery
Speed control
Forward and backward speed
Very comfortable
Cons:
Pull and go vehicles are kids' favorites! They are the most vital in the learning years of baby life. And thus, suit the kids of 8 months and more. These set of 4 pull-back vehicle set has a school bus, a family car, a fire truck and a police car. With soft touch and very light-weight wheels, these are the cutest gift to the baby girls to play around the house.
Pros:
Pull back vehicle for babies and toddlers
Comes in a set of 4 cars
Develops sensory, social-emotional, language and color knowledge
Soft and lightweight
Cons:
Not to be left with the kid alone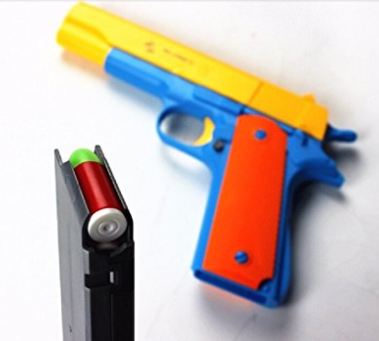 Baby boys of age 4 to 10 years have the ultimate way to celebrate the shooting hobby. The colorful pistol toy!The package contains one gun and 10 bullets which are colorful and easy to use. This one improves the movement ability and develops child mind. The bullets are really soft and makes for a good outdoor play.
Pros:
Child-friendly Classic plastic pistol toy
Soft bullets promote safe play
Suits baby boys 4 years and above
Promotes movement developing skills
Cons:
Not to leave the child unattended
Not for indoor play
Soft toys are girl's favoriteand this beautiful piece of stuffed animal is a beauty in itself. The Wishpets stuffed animal soft toy is a huggable and cute toy with a smaller toy on the pocket. Suitable for babies of all ages, this cute little piece makes for great kids companion be it their bedtime stories, airplanes, car or even when playing around in the house. Perfect for a baby girl!
Pros:
Soft toy for any age suitability
Very safe for the babies
Perfect partner for baby girls play
Cons:
Depends on the baby choice
Conclusion
The best toys are those which are really safe for the kids and also allow them to learn something new. Each toy holds a lot of significance in teaching skills and mental development of a child. And therefore, when you are up for selecting best kids' toys in Pakistan you must select the ones which are soft, highly functional and make the kids explore their creativity and skills. You can choose from an array of toys specially designed for baby boys and baby girls so that they get to play the toys with as much vigor as you brought for them. The parents however should note that kids should not be left alone with the plastic toys to save them from potential injuries. For best care of your child choose learning toys!