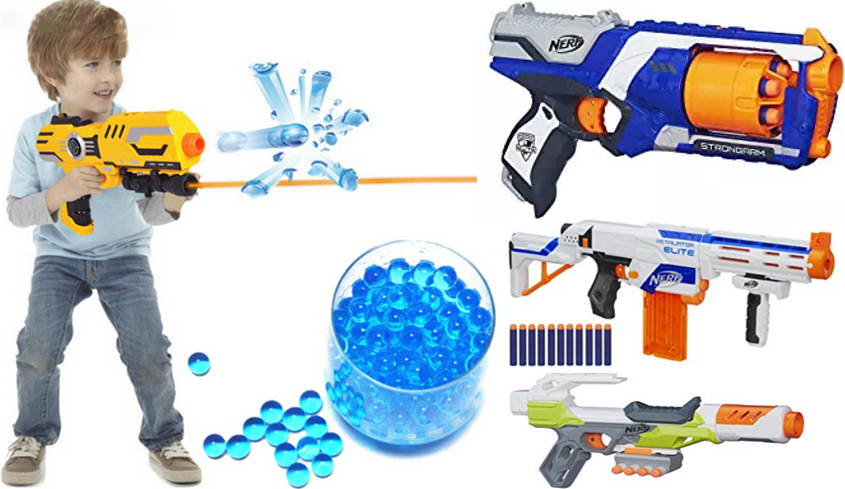 It has been observed usually that while, elder siblings are enjoying cool toys younger ones are not given most of the items and put them away from their reach. But, here is good news for kids, now you can also have cool toy as NERF guns. It's for your joy and happy playing time. Nerf guns are safe for toddlers too. Your little ones, a son or a daughter is fed up with his/ her toys and is keen to play with toys which are placed in his/ her elder sibling's toys box so you can buy him/her this Nerf gun and add attraction in his/her toys box too.
You can purchase any Nerf gun by keeping in view its weight and size. As per you and your kid's facility you can choose this cool toy. The things to consider are different designs, colors, features and the most important thing according to your child's taste. He may have a lot of fun in a small period of time.
The Blasters and N-Strike Guns by Nerf
NERF, manufactured first time in 1969 which is still a popular toy. It is found in three types of materials rubber, plastic and foam. It had been created by Parker Brothers which is now owned by Hasbro. They are available with different themes like water blaster, animal themed blaster, Air-powered blaster, tactical blaster, glow- in the dark blaster, red dart blaster and clear-dart blaster etc. They fire foam darts, discs or balls. They are manufactured in diversified forms, i.e. pistols, rifles and light machine guns. There is a list provided through which you can choose your kid's favorite theme.
Online shopping of Nerf guns in Pakistan
You don't find time to go out on toy shops and search out for best Nerf gun. Your child asks you frequently, he wants new toys. Than you can easily, grab a chance to remove his dourness by putting an online order. Save time, save energy and reliable shopping just a click away. Nothing worth more than your child's happiness, it is the best gift too on your toddler's birthday.  Picking the best gift has made easy when you have the safe gun toys for the adventurous kids. Zombie Strike, blasters and N-strike guns are the classic and premium.
Best of Nerf Guns
Nerf N-Strike Mega Centurion
Nerf N-Strike Modulus ECS-10 Blaster
Nerf N-Strike Elite Triad EX-3 Blaster
Nerf N-Strike Elite Rapidstrike CS-18 Blaster
Nerf Zombie Strike SlingFire Blaster