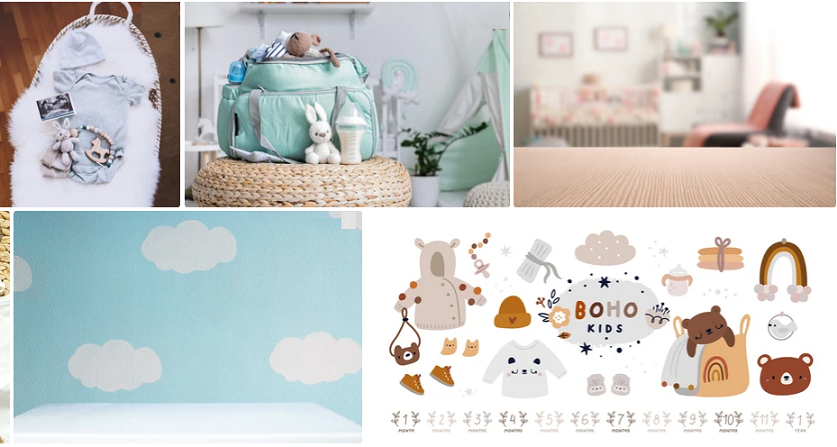 Planning and decorating a baby nursery is an exciting but overwhelming task for new parents because of unlimited Baby Nursery Products online in Pakistan Lahore. Thus, it is necessary to streamline the newborn baby accessories list before leading to baby nursery products online shopping in Pakistan. The baby room should have all essential gears for diapering, nursing, bathing, feeding, playing, and eating. However, not each baby room accessory is a must-have for nurturing the little angle. So, you need to gather useful baby nursery products in Pakistan as per their practicality in baby nursing. If you are a new parent and planning a baby room, we are here to help you find the Best Baby Stuff online in Pakistan. Here we brief down all must-haves that your baby will need for meeting the baby's necessities. We have categorized the checklist into some sections, i.e., essential furniture, decoration, nursing, diapering, toys, and baby care.
Nuby Complete Nursery Care Medical Kit for Healthy Baby – Small 7-Piece, Colors May Vary
Parker Baby Diaper Caddy – Nursery Storage Bin and Car Organizer for Diapers and Baby Wipes – Grey
Munchkin Shhh Portable Baby Sleep Soother Sound Machine and Night Light
Baby Healthcare Grooming 14 Kits, 13 in 1 Baby Care Products Nail Clippers Trimmer Set, Comb Brush Thermometer Dispenser Nasal Aspirator Kit, Infant Nursery Newborn Essentials Stuff Shower Gifts, Blue
Hanging Diaper Caddy Organizer – Diaper Stacker for Changing Table, Crib, Playard or Wall & Nursery Organization Baby Shower Gifts for Newborn (Gray Cloud)
Maliton Diaper Caddy Organizer for Baby Boy- Cotton Rope Diaper Caddy, Diaper Organizer for Changing Table, Nursery Storage Caddy, Newborn Baby Must Have Items
C136 Baby Girl Nursery Closet Clothing Size Divider Pink Nautical Set of 6 Fits 1.25 Inch Rod
Hatch Rest+ Baby Sound Machine, Night Light, Time-to-Rise Plus Audio Monitor, White Noise Soother, Toddler Sleep Trainer, Kids Alarm Clock, Nightlight
hiccapop Hanging Diaper Organizer for Changing Table and Crib, Diaper Stacker and Crib Organizer | Hanging Diaper Caddy Organizer for Baby Essentials | Nursery Organizer for Cribs
Baby Handprint and Footprint Makers Kit Keepsake For Newborn Boys & Girls, Baby Girl Gifts & Baby Boy Gifts, New Mom Baby Shower Gifts, Baby Milestone Picture Frames Baby Registry, Nursery Decor
Sleeping Bunnies by Little Baby Bum – Animal Songs for Kids
Munchkin Diaper Change Organizer
MyBaby, SoundSpa Lullaby – Sounds & Projection, Plays 6 Sounds & Lullabies, Image Projector Featuring Diverse Scenes, Auto-Off Timer Perfect for Naptime, Powered by an AC Adapter, By HoMedics
Frida Baby Fridababy 3-in-1 Humidifier with Diffuser and Nightlight, White
Aquaphor Baby Healing Ointment – Advance Therapy for Diaper Rash, Chapped Cheeks and Minor Scrapes – 14 Oz Jar
Munchkin UV Sterilizer and Sanitizer Bag, Eliminates up to 99% of Germs, Viruses & Bacteria, 21 UV-C LEDs, Cleaner for Nursery and Toy Baby Products
Better Life Nursery Cleaner & Chamomile, Clear, Chamomile-lavender, 16 Fl Oz (Pack of 2)
A Little SPOT of Emotion 8 Plush Toys with Feelings Book Box Set
Aveeno Baby Mommy & Me Daily Bathtime Gift Set Including Baby Wash & Shampoo, Calming Baby Bath & Wash, Baby Moisturizing Lotion & Stress Relief Body Wash for Mom, 4 Items
Better Life Nursery Cleaner & Chamomile, Clear, Chamomile-lavender, 16 Fl Oz (Pack of 2)
Essential Baby Nursery Furniture and accessories
In the baby's room, the foremost element you should consider is the baby crib. You will find many options for baby's bed such as the baby crib, baby cot, baby bassinet, or baby nest. It will be your choice which one suits your baby's room theme. We recommend you invest in a baby crib because it provides a safe and comfortable sleeping place for babies.

With the addition of a baby crib, you also need to consider investing in a good crib mattress. It should be washable, breathable, and comfortable to ensure better baby sleep. Avoid choosing the one wrapped in plastic or hard as a rock because it interrupts the restful sleep of the baby.

The baby room contains a lot of toys, diapers, clothes, and other small accessories which need to be stored nicely. Thus, there should be baby nursery organizers and storage, in which you can keep all small items arranged. When you are doing baby toys online shopping in Pakistan, do not forget about a well-sectioned closet. You will find many options for them during newborn baby accessories online shopping in Pakistan.
Baby loves sleeping in a swing that can give him the feel of his mother's lap. If you want to invest in something unique and useful, you can add baby swings to your checklist for newborn baby nursery accessories in Pakistan. They are available in various forms, i.e., hanging basket swing, automatic baby swing, manual swing, or convertible swing. You can pick any of them as per your budget or preference.
Nursing the baby is loaded with multiple diaper changes in a day. Thus, you cannot miss the changing tables during baby nursery products online shopping in Pakistan. It is important to baby room furniture that makes mother's job a bit easier. Mothers can give quick diaper changes to their babies with better control and safety.
When you are out for buying changing tables, pick the one with a dresser. You will find amazing options for changing tables with drawers and cabinets. These storage compartments help you place all baby skincare and diapering products within your range. You can place baby rompers, baby wipes, baby powder, baby lotion, rash cream, etc.
7. Baby nursery chair glider:
If you are going to be a mother, invest in a baby nursery chair. It rocks smoothly to make a mother relaxed during feeding her baby. Baby nursery chair rocker is simply a luxurious chair padded with soft cushions to provide ultimate comfort.
Baby needs several changes of clothes in a day, so it is essential to add a baby hamper basket to the checklist for baby nursery products online shopping in Pakistan. It is simply a laundry basket in which you can place the dirty baby clothes. You can also use it to store mini baby toys for an organized baby nursery look.
Baby room decoration items:
A cute rug in a baby room can elevate the overall baby room decoration in Pakistan. It is not a baby nursery essential, but it can improve your baby room décor idea. You will find cute colors, shapes, prints, fabrics, and textures in rugs that make the room more attractive areas for crawling babies.
The baby room décor looks incomplete without cute wall hangings, frames, or wall decals. Thus, you can consider them an essential item that elevates the room décor. While doing baby nursery products online shopping in Pakistan, consider exploring the items of baby nursery wall decor for boys and baby nursery wall decor for girls. You will find adorable paintings, hangings, and baby toys that add the element of attraction and charm to the room.
When you invest in a durable baby crib and its mattress, do not forget about the baby crib sheets and baby blanket. It is required for baby's comfort and baby's room decoration. No matter what baby room decoration ideas are in your mind, you will find the corresponding baby crib set online during baby nursery products online shopping in Pakistan. The cute printed, vibrant colors, soft material, and perfect sizing elevate the overall look of the baby's crib.
If you want an adorable, snuggly, comfortable sleeping place for an infant, you can go for baby nest online Pakistan. It seems like cushioned pod in which the baby feels protected and safe due to its snuggly sleeping position. The baby nest price in Pakistan varies from brand to brand, but it is useful and worth buying baby room decoration items during Baby room decoration Shopping Online In Pakistan.
Dim nightlight soothes the baby's mood while creating a relaxing ambiance in the room. Thus, it is the essential baby room décor item that also enhances the sleepy feel. You will find colorful and unique nightlight options during baby nursery products online shopping in Pakistan.
Essential baby care products in a baby nursery:
Nursing a baby is a messier task, so the baby room should have extra packets for baby wipes. We recommend choosing gentle and soothing wipes for babies to keep their skin clean without causing any irritation.
You cannot ignore the benefits of a feeding pillow if you breastfeed your baby. It is as important as a nursing bra because it helps maintain your correct posture. You can find them with the name of nursing pillows, C-shape pillows, or pregnancy pillows. When you are doing the baby toys online shopping in Pakistan, do not forget to invest in comfortable feeding pillows.
Feeding a toddler is the hardest job because they eat less and create more mess. Thus, it is important to have several baby feeding bibs in the room to keep the baby's clothes clean. Even if you are breastfeeding, the feeding bib also prevents spit-ups, drooling, milk leakage, etc.
Baby bathtub seat helps new mothers to give baths to the delicate baby. Newborns' skin gets slippery when it gets wet, so it becomes difficult to control the baby while giving a bath. However, bathing tubs for babies make it super easy to control the baby and prevent accidental slips or falls. It may also have a fastening belt that secures the baby during the bath.
You may find a baby grooming kit with a magnifier for easy nail trimming, but an electric nail trimmer works with more efficacy. It ensures the safe trimming of baby nails without damaging cuticles and soft nail beds. When you enlist the baby care products to keep in a baby nursery, must add this gear for regular filing.
The baby's nose gets clogged with bogus easily. Thus, it is essential to clean his nasal cavity three to four times a week. The nasal aspirator for babies makes it an easy and safe procedure with its suctioning out process. You can simply suck the bogus out of the dose with the help of an aspirator. It does not cause irritation, dryness, or damage.
Diaper changing requires a separate protocol to avoid mess. Diaper changing mat is one of those protocols that make it simple and less messy. Make sure the changing mat is waterproof, lightweight, and large in size. You will find many prints and designs in changing mats during finding baby Nursery Decor Price Online in Pakistan
It is not an essential baby nursery product in Pakistan, but it makes the diaper changing soothing baby. Baby gets disturbed when you wipe his skin with cold wipes, so it is a wise choice to invest in a wipe warmer.
Disposing of the dirty diaper is the real challenge because the wrong method can make the room smell foul. The baby diaper pail is a wise investment as an essential baby nursery product in Pakistan. It locks the smells within the pail, so the baby's room will smell great throughout the day.
Baby nursery essentials for safety
If you are planning a baby room next to your door, do invest in baby monitors. The monitoring device has a camera and audio detector, so it gives alerts whenever it seems required. You only need to mount the baby monitor camera at a specific angle in the baby's room. You can hear it easily when the baby cried and see what's wrong.
Dry air mostly causes allergies, cold, and throat irritation, and humidifiers help improve the air quality. It moistens the surrounded air to make the baby enjoy every season without any irritation. You can use a humidifier or diffuser with soothing essential oil to create an amazing ambiance in the baby's room.
Baby nursery essentials for playing
25. Age-Appropriate Baby Toys:
The checklist for baby nursery products online shopping in Pakistan is incomplete without adding baby toys to it. You need to be age-specific when choosing toys for the little angel. Ensure during baby toys online shopping in Pakistan that the chosen toys are non-injurious, BPA-free, and have no choking hazard. You can consider buying musical toys, soft toys, and a playing mat to make the baby's room attractive for fun plays. Later, you can gradually add the educational toys and STEM toys as the baby grows to the corresponding age.
Baby nursery is incomplete without cute and adorable stuffed toys. Babies love sleeping with huggable plush toys, so their crib seems barren without various stuffed toys. You can add stuffed animals, cute pillows, plush blankets, and more to the collection from baby toys online shopping in Pakistan.
To keep the little angel mesmerized, you should add cute rattling toys and rattle hangings to the baby nursery products collection. The colors, music, sound, and character attract the baby in fun play.
Baby will also feel pacifiers and teether during their teething age. Baby can bite it, squeeze it, suck it, and play with it to captivate in their own play.
The baby gradually starts crawling and walking, so the baby room should also have a baby walker. It helps the baby learn to walk with great support. Some walkers have an activity section that stimulates the baby's early development skills.
Hopefully, you have made your checklist for the baby room as per your preference. If you are searching for online baby accessories shopping with free delivery in Pakistan, our place for baby toys online shopping in Pakistan gives the best facilities. All you need is to explore the available collection, choose your required imported kids' toys and baby products, and place your online order. We import your ordered product from the USA and send it to your home door with free home delivery. Easy payment methods and timely delivery will also make your plan and create the perfect baby's room with ease.