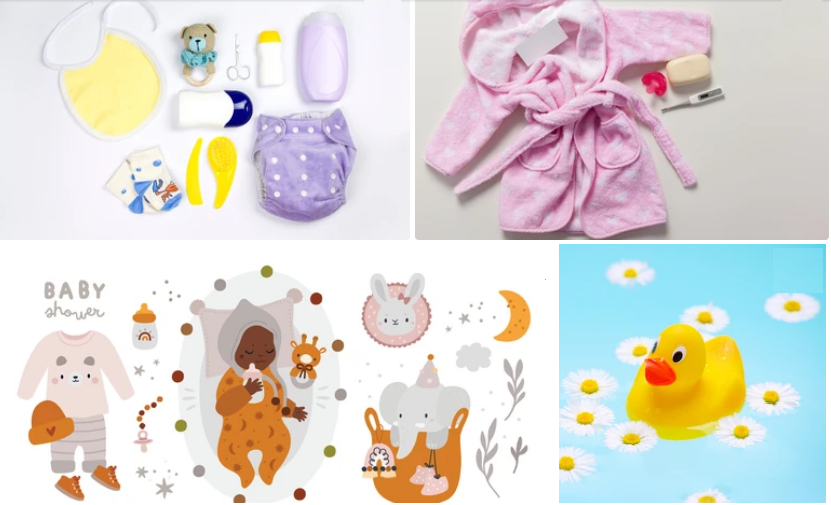 Newborn baby shopping online in Pakistan is always an overwhelming task for new mothers because they are not sure about what their babies will need. Don't worry. We have got your back in this regard. We dedicate this article to all new mothers who are preparing for their first baby. From planning a baby nursery to setting up the baby registry, we provide a comprehensive newborn baby accessories list for quick baby products and baby toys online shopping in Pakistan. You can consider it a brief checklist of all the baby essentials that you would need for a new baby. We have categorized the endless collection of baby products into six sections for the mother's ease. New mothers use our guide to figure out what to add to the cart and what to skip during baby essentials online shopping in Pakistan.
Gerber Baby 8-Pack Short Sleeve Onesies Bodysuits, Solid White, Newborn
Little Remedies New Baby Essentials Kit, 6 Piece Kit for Baby's Nose and Tummy
Univivi Door Hanging Organizer Nursery Closet Cabinet Baby Storage with 4 Large Pockets and 3 Small PVC Pockets for Cosmetics, Toys and Sundries (Grey)
Aveeno Baby Mommy & Me Daily Bathtime Gift Set Including Baby Wash & Shampoo, Calming Baby Bath & Wash, Baby Moisturizing Lotion & Stress Relief Body Wash for Mom, 4 Items
Mommy's Bliss Newborn Essentials Gift Set, Includes Gripe Water, Baby Vitamin D Drops, Baby Gas Drops, and Gentle Saline Drops/Spray
Muslin Burp Cloths for Baby 10 Pack 100% Cotton Baby Washcloths Large 20"X10" Super Soft and Absorbent by Yoofoss – White
Burt's Bees Baby baby girls Pajamas, 2-piece Pj Set, 100% Organic Cotton (12 Mo-7 Yrs) Pajama Set, Heather Grey Rugby Stripe, 5T US
Luvable Friends Unisex Baby Hooded Towel with Five Washcloths, Ikat Elephant, One Size
Dreft Stage 1: Newborn Hypoallergenic Baby Laundry Detergent Liquid Soap (HE), Natural for Baby, Newborn, or Infant, 64 Total Loads (Pack of 2)
Prohouse 12 Pack Baby Nylon Headbands Hairbands Hair Bow Elastics Handmade Hair Accessories for Baby Girls Newborn Infant Toddlers Kids
Medi Frida the Accu-Dose Pacifier Baby Medicine Dispenser by FridaBaby
Johnson's Sleepy Time Bedtime Baby Gift Set with Relaxing NaturalCalm Aromas, Bedtime Baby Bath Shampoo, Wash & Lotion Essentials, Hypoallergenic & Paraben-Free, 4 Items
Little Me 20-Pack Newborn Baby Infant & Toddler Girls Socks, 0-12/12-24 Months, Assorted Size Pack, Multi
Organic Baby Swaddle Sleep Sacks – 3-Pack Newborn Baby Swaddles 0-3 Months – Ergonomic Baby Sleep Sack – Infant Swaddle Sack – Swaddling Wrap Blanket Sleeping Bag for Newborn, Infant
Infantino Flip Advanced 4-in-1 Carrier – Ergonomic, convertible, face-in and face-out front and back carry for newborns and older babies 8-32 lbs
Lansinoh TheraPearl Breast Therapy Pack, Breastfeeding Essentials, 2 Pack
Fisher-Price Infant-to-Toddler Rocker – Pacific Pebble, Portable Baby Seat, Multi
Bamboo Baby Washcloths – 2 Layer Soft Absorbent Bamboo Towel – Newborn Bath Face Towel – Natural Baby Wipes for Delicate Skin – Baby Registry as Shower( 6 Pack)
Baby Wipes, Pampers Sensitive Water Based Baby Diaper Wipes, Hypoallergenic and Unscented, 8 Pop-Top Packs with 4 Refill Packs for Dispenser Tub, 864 Total Wipes (Packaging May Vary)
Burt's Bees Baby – Burp Cloths, 100% Organic Cotton Absorbent 5-Pack Drool Cloths (Heather Grey, Solid)
Read on and check out the spruced list of newborn baby essentials 2022.
1. Baby wardrobe essentials
When a new pregnant woman explores the newborn baby clothes online in Pakistan, she would find millions of adorable newborn baby dresses. These beautiful clothes propel new mothers to add hundreds of them to their baby's wardrobe irrespective of their usability. Therefore, we help you streamline your purchases by giving you a brief list of all baby wardrobe-essentials. We also tell you how many of these baby clothes you should buy to make baby nursing easy.
Baby rompers are one of the best newborn baby dresses that ensure the comfort, coziness, and cuteness of the baby in them. They mostly come in different designs, with footie design, without legs, full-sleeve/half-sleeve, and more. You need to pick the design as per the upcoming weather, i.e., a full-sleeve romper for winter and half sleeve or sleeveless for summers. We recommend you add at least 4 to 6 rompers to the baby wardrobe to let the baby enjoy the elevated level of comfort all-day.
· Baby Sleepers:
Baby sleepers are newborn sleepsuits that ensure comfort, ease, and coziness at night. According to experts, it is a must-have baby outfit because it keeps the baby relaxed while bringing ease to the frequent diaper changes at night. They are made of super lightweight, breathable, and high-quality fabric that is super comfortable on the baby's skin. These baby's sleepsuits also have a footie design to keep the baby's feet covered for maximum protection. We suggest you buy at least 4 to 6 sleeper suits for the baby to keep their night comfortable and enjoyable.
Bodysuits are one-piece close-fitted rompers that keep the baby cozy and relaxed in their leisure time. You can also find winter bodysuits for babies that have a thermal lining to keep the baby warm. You need to choose the bodysuit as per the upcoming weather to ensure the comfort of your baby. We recommend you buy at least 3 to 4 bodysuits during newborn baby essentials online shopping in Pakistan.
You must be thinking that onesies and rompers are the same things. However, the difference is its legs. Onesies do not have legs, so they are the perfect pick for summer. However, you can find rompers for the winter too. If your baby is arriving in the summer, you should have 4 to 6 onesies in your baby wardrobe.
The collection of baby clothes online in Pakistan includes a wide range of baby sweaters and jackets. They are usually cable-knitted sweaters that look adorable and feel cozy for little angels. You can find the complete set of cardigan sweaters, including mittens, newborn baby beanies, baby socks, etc. These cute sets make them the perfect newborn gift set for newborns arriving in winter.
· Baby socks and booties:
Baby socks and booties are the essential things in a baby's wardrobe because they keep feet warm and cozy. You can find numerous cute, tiny, and cozy socks designs during baby essentials online shopping in Pakistan. We recommend you add 5 to 6 pairs of socks or booties for babies to their wardrobe.
No matter what weather it is, no scratch mittens are essential to keep the baby protected from his nail scratches. However, you can opt for a thermal mitten if winter is coming. Two to three pairs of mittens would be enough for a newborn.
Newborn baby beanies or hats are meant to provide gentle compression to make a baby feel safe. Therefore, they are the must-haves for newborns. You can go with newborn baby hats for summers to provide breathable but protective compression during hot days,
Frequent diaper changes may make you require some extra leggings to keep the baby clean. So, we recommend you to have at least 6 to 8 footie pajamas and legging in the baby's wardrobe essentials.
2. Baby Nursery Essentials:
If you are planning and organizing the baby nursery for your newborn, consider the following things on your checklist during baby essentials online shopping in Pakistan.
A baby crib is the most important furniture for a baby's nursery, so you should also invest in several crib sheets to ensure cleanliness. It is recommended to change the crib sheet every second day to prevent dirt allergies.
The baby nursery should also have several storage boxes for baby apparels, baby toys, baby wipes, baby diapers, and other baby essentials. They help keep the baby products organized in well-sorted boxes to keep the baby nursery clean and organized.
You also need to invest in good quality baby blankets, swaddle wraps, receiving blankets, and quilts for the baby to ensure the baby's cozy sleep at night. We recommend you have at least two blankets for babies in the baby nursery essentials.
It feels achy to carry the baby for a long time during his nursing. Therefore, baby carrier bags and baby carrier seats work the best to add comfort to carrying a baby. Thus, the baby nursery should have one baby carrier to give a secure and cozy feeling to the baby in your arms.
Baby Sleeping Bag is essential to create a cozy environment for the baby to make him fall asleep easily. Baby needs to feel swaddled during sleep, and it can easily be created in the sleeping bag. You can find different designs, sizes, and shapes of baby sleep bags. We recommend you have 2 to 3 sleeping bags in your collection.
A baby burp cloth is necessary to use after feeding the baby because the baby usually spits the milk during burping. You should have 6 to 8 burp sheets in your collection to ensure cleanliness during baby feeding.
3. Baby Diapering Essentials:
The baby requires frequent diaper changes in the starting months. Therefore, we consider it important to invest in all baby diapering essentials during baby essentials online shopping in Pakistan. Here we enlist the important thing that you should buy.
· Baby wipes:
Baby wipes help clean the bottom of the baby without irritating the sensitive baby bum. It is recommended to have several packs of baby wipes in the baby bag and nursery room to ensure safe and clean diaper change every time.
You can avoid baby rashes by only using diaper cream or rash cream for babies. They create a protective layer on the baby's skin while treating and soothing the rash if any.
Packs of disposable diapers are a must-have in the first year of the baby's life. Baby needs almost 8 to 12 diaper changes in the initial months, so you have to be sufficient in disposable diapers. We recommend you always have one extra pack in baby essentials to avoid any inconvenience in the diapering challenge.
· Baby bloomers:
Baby bloomers are used to cover the diaper to make the baby look more adorable. We recommend you buy 6 to 8 baby bloomers or baby bloomer sets in different colors during your baby essentials online shopping in Pakistan.
If you do not afford disposable diapers, you should invest in cloth diapers that you can wash and reuse. They are less absorbent than a disposable diaper, so you will need more frequent changes to avoid a baby rash. Thus, we recommend you buy at least 12 cloth diapers for making diapering easy and less hectic.
· Diaper Covers:
Diaper covers are important to keep the pooping mess away from the clothes by adding more protection from diaper leakage. They are the simplest version of baby bloomers that keep the diaper covered for safety and hygiene purposes.
A diaper bag helps keep all diapering essentials in one place during travel. You can hold changing sheets, diapers, rash cream, baby care products, and other diapering products to give a quick diaper change anytime and anywhere. You will find various designs in diaper bags during newborn baby essentials online shopping in Pakistan.
Baby bath products are as important as baby skincare products because they both help maintain the baby's health and skin health. However, the primary thing that you need to consider is ensuring the safety and protection of the baby during the baby bath. Therefore, you should choose the baby bath essentials that are gentle and protective for the delicate baby. When you explore inventory for baby products online in Pakistan, you will find an overwhelming range of baby bath products. However, we enlist below some must-haves to bring ease to newborn baby essentials online shopping in Pakistan.
A baby bathtub is the foremost baby bath gear that makes newborn babies safe and protected. The delicate baby is prone to slip from your hand during a bath. Therefore, it is important to use a protective bathtub to control the baby and avoid slippage. It usually has a newborn sling and a drain tub to provide protective space for a baby bath. Your baby can be laid on the sling and let his head rest on it to discourage his vigorous movement during the bath. The online collection offers different designs of baby bathtubs, seats, and bathers, so you need to choose the one as per your preference and convenience.
Newborns mostly get cradle caps due to the delicate and dryness-prone scalp skin. Therefore, pediatricians highly recommend using gentle baby shampoo and baby wash to keep the skin healthy. The gentle and no-tear formula of baby shampoo makes baby shampoo the most important baby bath product because it cleanses the scalp without stripping the moisture. The moisture-rich formulas leave gentle hydration on the skin to prevent baby skin dryness.
Some people think baby shampoo and body wash are the same things. However, they have different formulas for hair and skin. To wash the delicate baby body, you need to consider gentle baby soap or body wash. They have a moisturizing formula that provides gentle skincare while removing the dirt from sensitive baby skin.
Mothers should make the baby cozy and warm after giving a bath to prevent cold symptoms. Hooded baby towels are super soft, skin-friendly, extra-large, and cozy for babies. The adorable characters on the hood make these towels super cute on babies. They help dry the baby's hair and body without being harsh on the skin.
The baby bath essentials should also have some washcloths to ensure quick drying of the baby's skin after a bath. They are soft and gentle on the skin while being super absorbent. They are essential to soothe the baby after giving a regular bath.
Baby moisturizers or baby lotions are important to restore the moisture layer to the delicate baby's skin. Baby skin becomes dry quickly, so health care experts highly recommend applying baby moisturizer cream after a bath. It prevents the delicate skin from drying out and cracking. The rich-emollient formula without any harsh chemicals or ingredients makes these moisturizers soothing for sensitive baby's skin.
5. Baby Feeding Essentials:
Whether your baby only feeds your breastmilk or formula milk, you should have some baby feeding products for newborn baby essentials. The versatile collection for baby essentials online shopping in Pakistan may overwhelm you to choose the right one. Therefore, here we create the checklist for your help.
Newborns only require a small amount of formula milk or breast milk in one sitting. Therefore, you do not need to buy big bottles for them. The 4 to 5 ounce bottle size is just perfect for them. Experts recommend mothers buy a baby bottle with a breast-shape nipple design to avoid trouble transitioning between breast and bottle.
Always ask the pediatrician to recommend suitable formula milk for your baby because formula milk provides all the essential nutrients that may be missing in your breast milk. Moreover, baby formulas are also an excellent choice for mothers who do not want to breastfeed their babies.
When your little angel howls late at night, you may feel exhausted going to the kitchen to warm the bottle. Therefore, the bottle warmer has come to provide ease with its quick warming and no overheating function. You only need to place the bottle in it to warm the milk anytime without any hassle. Electric bottle warmers by Avent, Philips, and Munchkin are the best for their amazing specs.
The correct posture of a mother during breastfeeding is important to prevent neck, back, and arm strain. Therefore, a baby feeding pillow or nursing pillow is designed to correct the posture of a mother. Moreover, it also allows mother and baby to enjoy this nursing time to the fullest.
Nursing pads are breast pads used to absorb leaking breast milk to protect your bra and clothes from snags. Breastfeeding mothers experience leaking breasts due to the overproduction of breast milk. Therefore, it is essential to use nursing pads to avoid embarrassment. You can find reusable and disposable nursing pads online during newborn baby essentials online shopping in Pakistan.
Breastfeeding makes the nipple dry, sore, cracked, itchy and even bleeding. These damages can heal by using repairing and moisturizing nipple creams. The nurturing nipple cream contains organic emollients, such as cocoa butter, shea butter, coconut oil, etc. These botanicals help repair skin damage by restoring the lost moisture. Moreover, it is safe for nursing and feeding a child.
Bottle-feeding may expose a baby to germs if you do not clean and sterilize the feeding bottle correctly. Therefore, an electric bottle sterilizer has come to kill the germs on the bottle to keep it disinfected. It is a quick and easy means to ensure the hygiene of the feeding bottle to protect the baby from infections.
Babies also require occasional grooming to ensure health and neatness. When you are doing newborn baby essentials online shopping in Pakistan, invest in some important baby health essentials too. It includes a nail clipper, a thermometer, a pacifier, a cradle cap brush, a first aid kit, and more. However, it is not necessary to buy every product irrespective of its use. Here is a brief checklist that you can consider during your online shopping for baby toys in Pakistan.
Baby nails grow fast, so they need to be filed or clipped on a regular basis. Clipping baby nails is a hard task because a deep or wrong cut can damage the baby's skin. Therefore, there are special baby nail scissors, baby files, and nail clippers available online in Pakistan. They can trim the nails safely by simply rounding off the nail shape.
It is hard to check a baby's body temperature with a standard thermometer. Therefore, some brands have come up with digital baby thermometers to measure the rectal temperature or forehead temperature. They are safe, flexible, and easy to use on babies.
If your baby is always cranky, consider buying a pacifier for him to keep him comfortable. Pacifier at bedtime also reduces the risk of SIDS, so health experts highly recommended using a pacifier in the first year of the baby.
The baby grooming kit contains all the essential baby products that you would need for the baby's health maintenance or grooming. It includes a nail clipper, blunt scissors, medicine dropper, baby comb, baby thermometer, and nasal aspirator. When you are doing newborn baby essentials online shopping in Pakistan, you should consider buying this grooming kit to get all the health essentials in one pack.
Hope! This article has helped you make an ultimate checklist for newborn baby essentials online shopping in Pakistan. When you are creating your checklist, ensure that you add all important stuff to your cart. So, what are you waiting for now? Search required products online in Pakistan, pick the best one, add them to your cart, and place your order now. Our inventory makes sure that you get the USA imported and premium quality baby products at the best prices in Pakistan.