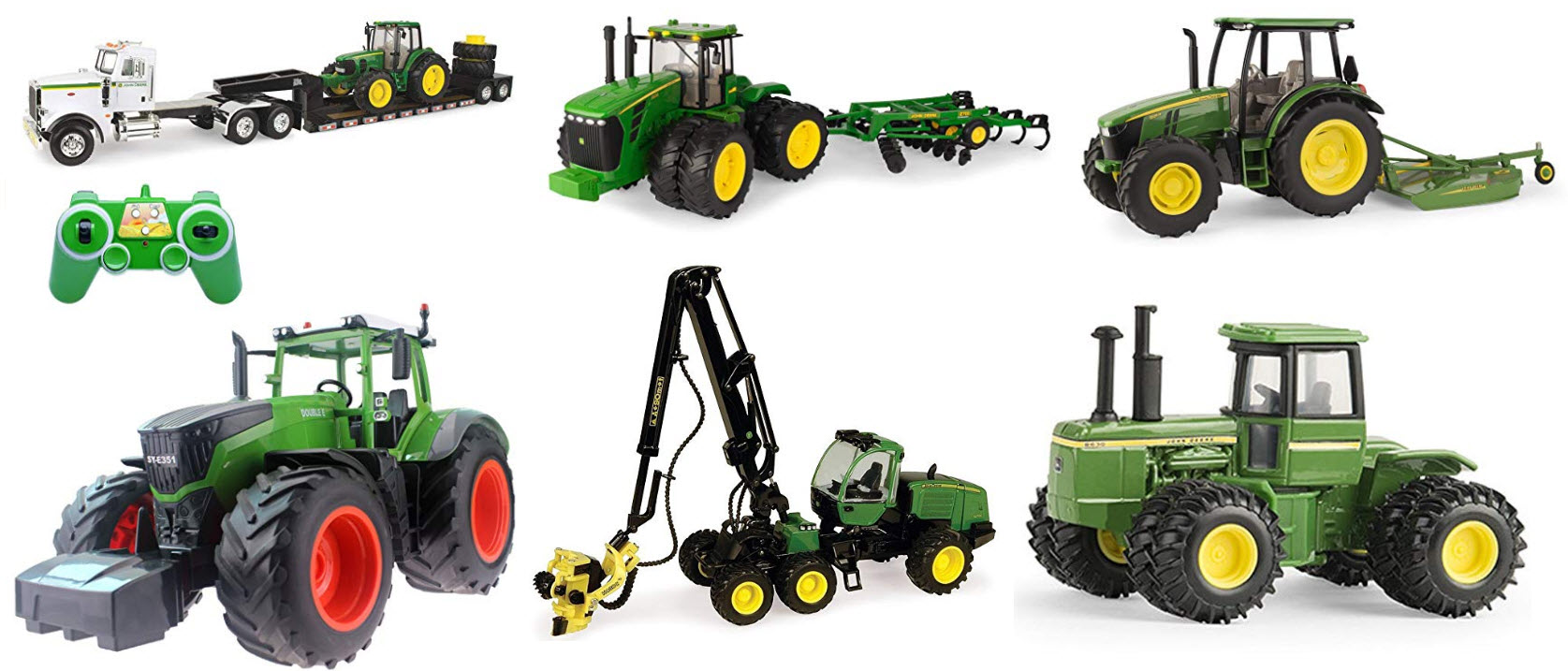 The John Deere Big Farm Tractor is perfect miniature of farming tractor that actually made to provide concept of farming to kids. The age of kids is actually the age of mounting knowledge. In this era of technology, traditional techniques of cultivation and farming become underrated. Therefore, top brands have been manufacturing functional big farm tractor toys for kids, through which they can find the use of farming tractor and other farming accessories.
The imported quality John Deere Big Farm tractors are made for kids of age 3 and above. The John Deere tractor toys are safe for kids, as they are made of kid's friendly plastic. You can find the various farm tractor toys for kids in Pakistan at the reasonable price from imported John Deere farm tractor toys online shopping in Pakistan. For instance, Farm Semi with Tractor, John Deere set, John Deere Tractor with Spreader, John Deere rotary Cutter, John Deere Wheeled Harvester Toy, John Deere Tractor with Duals, etc.
Features of John Deere Big farm Tractor:
Each of the parts of farm tractor has the same design as the actual tractor. However, they are just the mini-sized replica of real farm tractor.
The functional lights, sounds, and moving parts are making the John Deere farm tractor to seem real for kids.
The big sized farm tractor comes in size scale of 1:16, but it is not weighted too much heavy as it is made of plastic.
The interactive engine produces sound of engine, which seems like real for kids.
Imported John Deere big farm tractors in Pakistan are available in multiple designs, such as, typical John Deere tractor, John Deere Harvester tractor toy, John Deere Scoop Tractor toys, etc.
The seekers can find the high quality John Deere Tractor toys for kids with other farming accessories and farm sets from imported John Deere tractor toys shopping in Pakistan.
It is recommended for kids of age 3 and above, as small accessories or parts create choking hazard.
Why should buy John Deere Big Farm Tractor for Kids in Pakistan:
The well-designed and functional John Deere Farm Tractor toys are providing the educational and fun opportunity for kids in their ordinary play. Many kids have the hobby to play with constructional automobile, like crane, tractors, trucks, etc. Therefore, the big farm tractor toys by John Deere would be the ultimate present for those enthusiasts. The real looking and functional farm tractor allows the kids to execute their imaginary farming story. It improves the psychomotor skills of kids, as kids use their fine and gross motor skills. You can find the best John Deere Big Farm Tractor price in Pakistan from kid's toys online shopping in Pakistan
Where to buy John Deere Farm Tractors toys online in Pakistan:
If you are seeking the durable, high quality and original John Deere Farm Tractor Toys for kids, then you are at just right place. Here you can find the versatile collection of kid's tractor toys, such as RC tractors, RC cranes, and other RC toys at best price in Pakistan. Just pick your required Big Farm Tractor toy and hit order now. It would be the perfect destination by buying kid's toys as a gift. You will get your ordered John Deere tractor toy at your doorstep via kid's toys online shopping in Pakistan.